EPON or called as GEPON is a point-to-multipoint, fiber to the premises network architecture in which unpowered optical splitters are used to enable a single optical fiber to serve multiple premises, typically with up/downlink rates up to 1 Gbit/s. Compare with standard glass fiber + copper cable GEPON solution, ZJY's POF GEPON Solution correspond with the National "Optical Fiber Substituting Copper Wire" plan, which helps in achieving All Optical Network. This outstanding solution is easy to install, immune to electromagnetic interference and cost-effective for constructing a faster, easier and modern network for end users.
POF GEPON System combine with OLT, ODN and ONU. By using POF connectors on ONU, All Optical Network system can be connected by POF cable.
POF-E1000 is the new EPON device for small area use, and supports telecommunication FTTH broadband Internet service provided by ISP. Compare with regular EPON products, it offers higher bandwidth, more connected end users and effectively reduce investment in system operating, that is the best ideal for "last mile" FTTD service solution provided by ISP. POF-E1000 is the product which highly integrated, flexible applicable, highly stable, QoS guarantied, managed, easy extendable and easy to setup.
The POF Solution Based on EPON technology makes FTTD more practical and with lower cost. Standard EPON devices are being mature in using, but still pending on the solution for FTTD (end users are still using copper cable for the end connection). It likes driving from Highway into a small lane, but the speed (bandwidth) has been limited. By using POF for the final part of connection, likes the Highway has been extended to the destination. It is easy for installation and using, and saves the wiring cost. The POF EPON Solution will be the final solution for FTTD.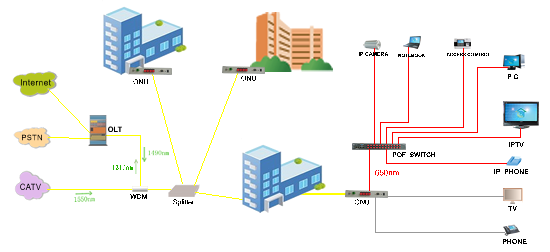 Fig.1 Topology of POF GEPON Solution
Features & Functions
1.Quick and easy to install;
2.Small and unobtrusive;
3.Simple design;
4.Quick troubleshooting;
5.Cost effective;
6.Triple play services